Welcome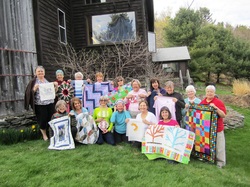 The Wayside Quilters Guild is a Sudbury-based group of about 60 quilters founded in 1985. We gather to share our love of quilts and quilting, and we work to promote and share knowledge in the art of quilting with each other and those new to quilting.
We meet monthly for workshops, trunk shows, quilting for charity, show and tell and more. We hold a biennial quilt show and an annual auction of quilting supplies that is not to be missed.
Please explore our website for more details or contact anyone on the board. Better yet, come to our next meeting or workshop. We look forward to meeting you!
Read A Brief History of the Wayside Guild
Don't Miss...
End of the Year Auction and Potluck
Monday, June 13th 7 pm
Grange Hall, Sudbury Town Center
Parking behind Sudbury Town Hall
Bring your cash and be ready to have a blast bidding on some fantastic quilter goodies while you enjoy some wonderful food and good friends.
Please remember to bring your own dinnerware and consider bringing finger food to help with a speedy clean-up.
Guild Meeting
Monday, August 8, 7:00 pm
Grange Hall, Sudbury Town Center
(Park behind the Town Hall)
2016 Wayside Quilt Guild Quilt Show
October 1-2, 2016
Lincoln-Sudbury Regional High School
Set up will be on Friday, September 30
See the Meetings and Events page for details on all programs.
---